ABOUT
Born and raised in Kyoto, Chef Yuji Tani worked in sales for a long-established local bedding company before deciding to hone his skills at an acclaimed French restaurant in Kyoto. Tani then moved to Tokyo, and after serving as executive chef at several restaurants, he opened HOUSE Tokyo in Nishi-Azabu in 2007. In 2015, Tani obtained full ownership of the restaurant and became owner-chef.

HOUSE Tokyo is known for adding a new twist to French cuisine and for offering relaxed and friendly service, which led them to be featured in many publications including Andrea Fazzari's Tokyo New Wave, which showcases the new guard of Tokyo's vibrant food scene. Tani also established relationships with professional kitchens all over the world by participating in numerous collaborative dinners and art events in cities including London, San Francisco, New York, and Tokyo.

Tani continued to chase his long cherished dream; to open his restaurant in New York. He finally relocated to Brooklyn in 2019 with his family to open HOUSE Brooklyn. Tani is excited to share a new cuisine with New Yorkers in Greenpoint, Brooklyn, his favorite neighborhood in the city.
ABOUT THE CUISINE
While Japanese cuisine is known for its use of the freshest ingredients of the highest quality, Kyoto cuisine in specific is historically known for incorporating skillful techniques to preserve the ingredients, which can be seen in French gastronomy too. French cuisine does so artfully by layering flavors with herbs and spices, while Kyoto cuisine relies on the science of fermentation and dashi. Combining the French techniques with the minimalist Kyoto-style approach, Chef Yuji Tani serves a unique unparalleled French Japanese cuisine at HOUSE Brooklyn in Greenpoint.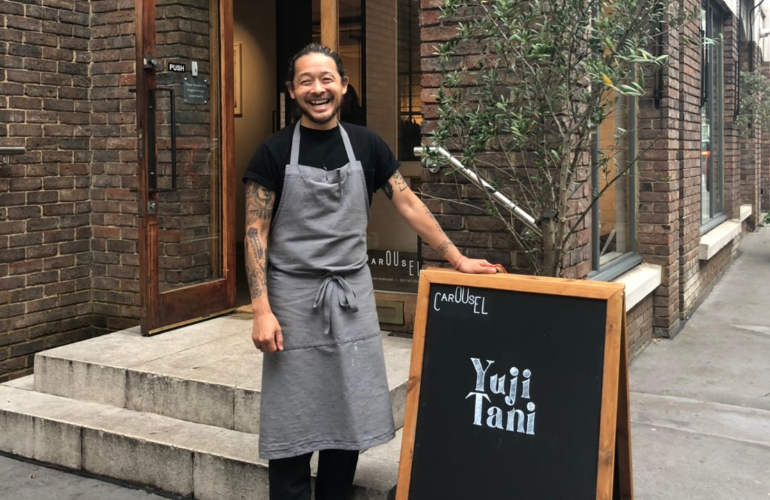 OWNER
YUJI TANI
Chef Tani, born and raised in Kyoto, began his culinary career at French restaurant" Bellecour "in Kyoto after leaving his job as a sales rep of an acclaimed Kyoto Bedding supplies Long-established brand. After years of trainings and working at several other restaurants in Kyoto and Tokyo, Chef Tani opened HOUSE NISHIAZABU in Tokyo as the Executive Chef in 2007, and then he became the owner in 2015.
Tani combines his French techniques with his Kyoto heritage, using various traditional Japanese ingredients, which results in refined, yet home-style dishes. His policy is to bring "farm on the dish" and to embody all the farmers and craftsmen who were involved in creating each plate. Chef Tani also consults for many projects at Hotel, Restaurant, art event, and has been featured in many publications, including Tokyo New Wave by Andrea Fazzari.
CONTACT
LOCATION:
50 Norman Ave Brooklyn, NY, 11222

OFFICIAL OPEN DATE:
December 1st 2022

OPEN HOURS:
Wednesday-Saturday 18:00~20:15; 20:30~22:15

INQUIRIES:
housebk@house-bk.com
(Please do not email for reservations.)