Yuji Tani, the owner chef of the restaurant HOUSE in Tokyo, has been holding collaborative dinners with many restaurants and chefs such as "Chez Panisse" in California, "Carousel" in London, "Bouley" in New York.
He also works with knife craftsmen and ceramic masters to make kitchen utensils.
As he met and communicated with friends who loved food from around the world, transcending language barriers, he came to have the desire to convey the Kyoto culture of his hometown to many people around the world.
Based on such ideas, in March 2020, we decided to open the restaurant "HOUSE Brooklyn" in Brooklyn, a city where various cultures are mixed.
The restaurant design is a brewery that was built about 130 years ago, there are brick walls, large pillars and beams at the time, and it feels warm.
In addition, the kitchen is like an old-fashioned Japanese kitchen with an open kitchen. Because the original remains, it is a space where you can relax.
HOUSE Brooklyn makes full use of the power of fresh ingredients received daily from producers near NY,
A dish that uses a French technic as a base for Kyoto cuisine, and finishes it as simple as possible without using seasonings. In other words, we will offer the next generation Japanese cuisine "NEW Kyoto cuisine".
We also prepared a wide selection of natural wines and sake.
Please enjoy "NEW Kyoto cuisine" with a natural and essential taste and art-like arrangement in a relaxing space like a fun home party at "HOUSE Brooklyn".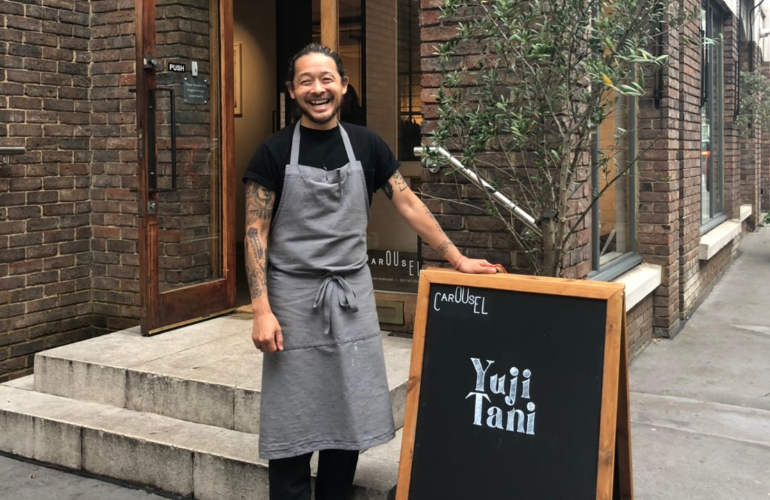 OWNER
YUJI TANI
Chef Tani, born and raised in Kyoto, began his culinary career at French restaurant" Bellecour "in Kyoto after leaving his job as a sales rep of an acclaimed Kyoto Bedding supplies Long-established brand. After years of trainings and working at several other restaurants in Kyoto and Tokyo, Chef Tani opened HOUSE NISHIAZABU in Tokyo as the Executive Chef in 2007, and then he became the owner in 2015.
Tani combines his French techniques with his Kyoto heritage, using various traditional Japanese ingredients, which results in refined, yet home-style dishes. His policy is to bring "farm on the dish" and to embody all the farmers and craftsmen who were involved in creating each plate. Chef Tani also consults for many projects at Hotel, Restaurant, art event, and has been featured in many publications, including Tokyo New Wave by Andrea Fazzari.
CONTACT
LOCATION:
50 Norman Brooklyn NY 11222

OPENING HOURS:
Scheduled to open in mid-September 2022

INQUIRIES:
housebk@house-bk.com